Here's me on my main mount these days. That's Indigo Blue, an 18 year old Arab. I've had him for 12 years. He has around 2500 NATRC and other CTR miles and 320 AERC miles so far and he's still gettin it on down the trail. here we are at the AHA National CTR this past fall at Leatherwood in NC. He was 5th.
We just finished our 1st 100 mile ride, the Old Dominion!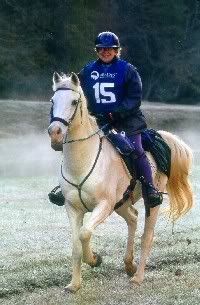 Here's my mare Shady Rock Rose with her new filly and my future trail horse Summer Dance. Rose is an awesome horse who is also an NATRC 1000 mile horse with 2 National Championships. Summer's sire is Stetson CD who belongs to Nicki and Don Meuten. He's a 100 miler horse and I hope Summer will be too some day! Look for Rose at some endurance rides later this year.
Here is Summer and her mom on her 1st birthday 7/9/08.
She certainly is turning out to be an athlete! Can't wait to ride that down the trail!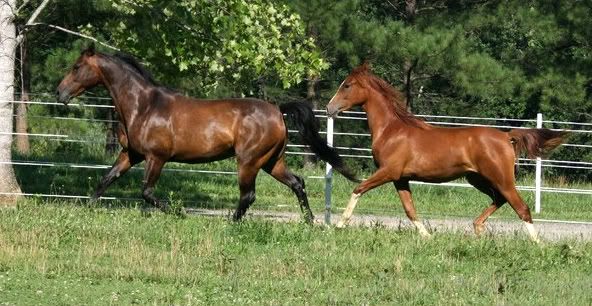 Oh, yes, and when I went to pick the mare up at the breeding farm I just happened to fall in love with a 2 year old that I just HAD to go back and get. Her name is FYF InZane and she was born on April Fools Day. Zanie is the sanest horse I've ever owned. Here she is right after I brought her home last January. She's now 3 and 3/4 and under saddle and learning the basics.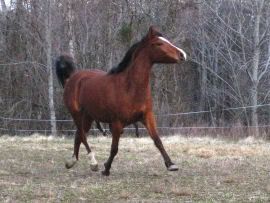 Here are Blue and Rose in the Independence 4th of July parade representing the Iron Mountain Back Country Horsemen.